Perhaps the most important benefit that children gain from taking martial arts is the confidence that is instilled in them, right from white belt, all the way to black belt.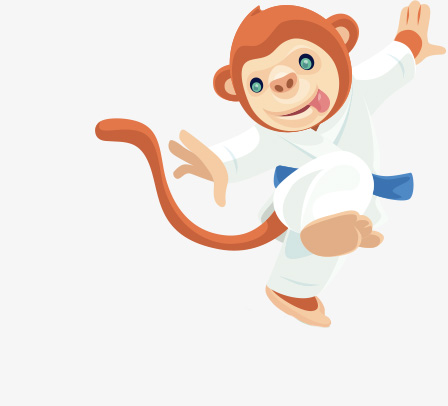 In addition to the physical strength they build as they practice kicking, jumping, running and punching, they also learn concentration and discipline. Parents are quickly excited to see the self-discipline, focus, control and increased concentration carry over into their child's everyday life.
Lil'Ninjas
(3-5 Years Old)
Balancing, running, jumping, climbing and a first discovery of martial arts with boxing and sticks bring out focus, discipline, confidence in a playful environment!
Teaching our Lil'Ninjas is one of our favourite things to beyond being tons of fun, the class is a combination of our martial arts and motor skills curriculum and our character education program. Our team of teachers is trained to positively contribute to the physical, emotional and mental development of our little students! They might be shy at first but eventually, they bloom to become confident ninjas and parents enjoy the positive impact beyond what happens at our dojo.
Our curriculum is structured in 4 cycles: Focused Tiger, Patient Panda, Confident Monkey & Respectful Turtle.
KM Kids
(6-12 Years Old)
Our martial arts program for children is built on the best of traditional Southeast Asian martial arts, teaching our students the skills and knowledge to take on challenges of the future.
Whether it is with long staff, sticks or traditional empty hands and kicking systems, the structured curriculum was designed to optimise our students' learning and have a lasting impact beyond the dojo. Most of all, we believe martial arts is the best tool for building responsible, confident kids while encouraging team work and promoting respect to have a positive impact around them.
Our character education program works on 12 distinct traits: Confidence, Respect, Persistence, Courage, Focus, Creativity, Excellence, Teamwork, Leadership, Self-Discipline, Attitude & Responsibility.
KM Parties
(From 3 Years Old)
Pick your special theme such as Jedi Knight, Ninja Warrior or Superheroes Academy and we take care of the rest!
Our kids parties are 100% fun and bring together the best of martial arts, parkour and character education for an unforgettable special day!
You can pick from either 60 or 90 minutes of activity followed by 30 minutes for cake and presents free time. We'll dress up the place based on the theme you picked, prepare the table for the cake and all you need is to come with the cake. Parties are available at River Valley, Katong and Sentosa Cove.